"Pixel art instead of synthesizers"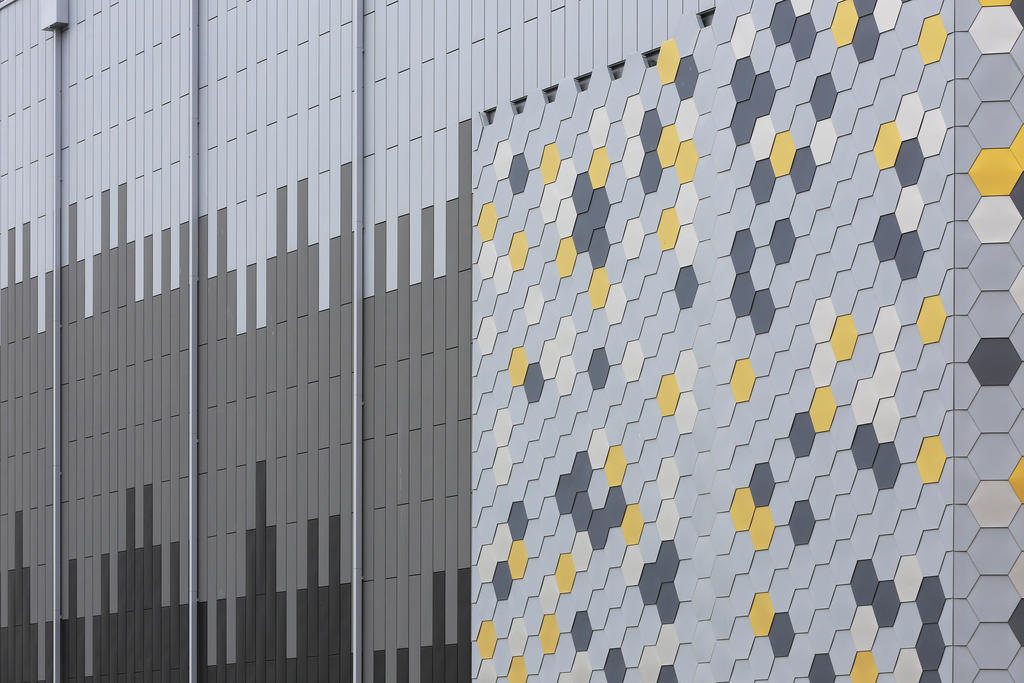 Depeche Mode, the synth-pop legends, have their roots in the English town of Basildon. The band members grew up in the first generation of children in Basildon, which was one of the first cities in England to be transformed into a "New Town" in 1949. In recent years, the Eastgate shopping center in the center of Basildon has lost its attractiveness and visitors, prompting the town council to launch an infrastructure project to revitalize it. The project focuses on a new multiplex cinema with 10 cinemas, six new restaurants, bars, and cafes with outdoor dining, and the largest cinema screen in the county of Essex.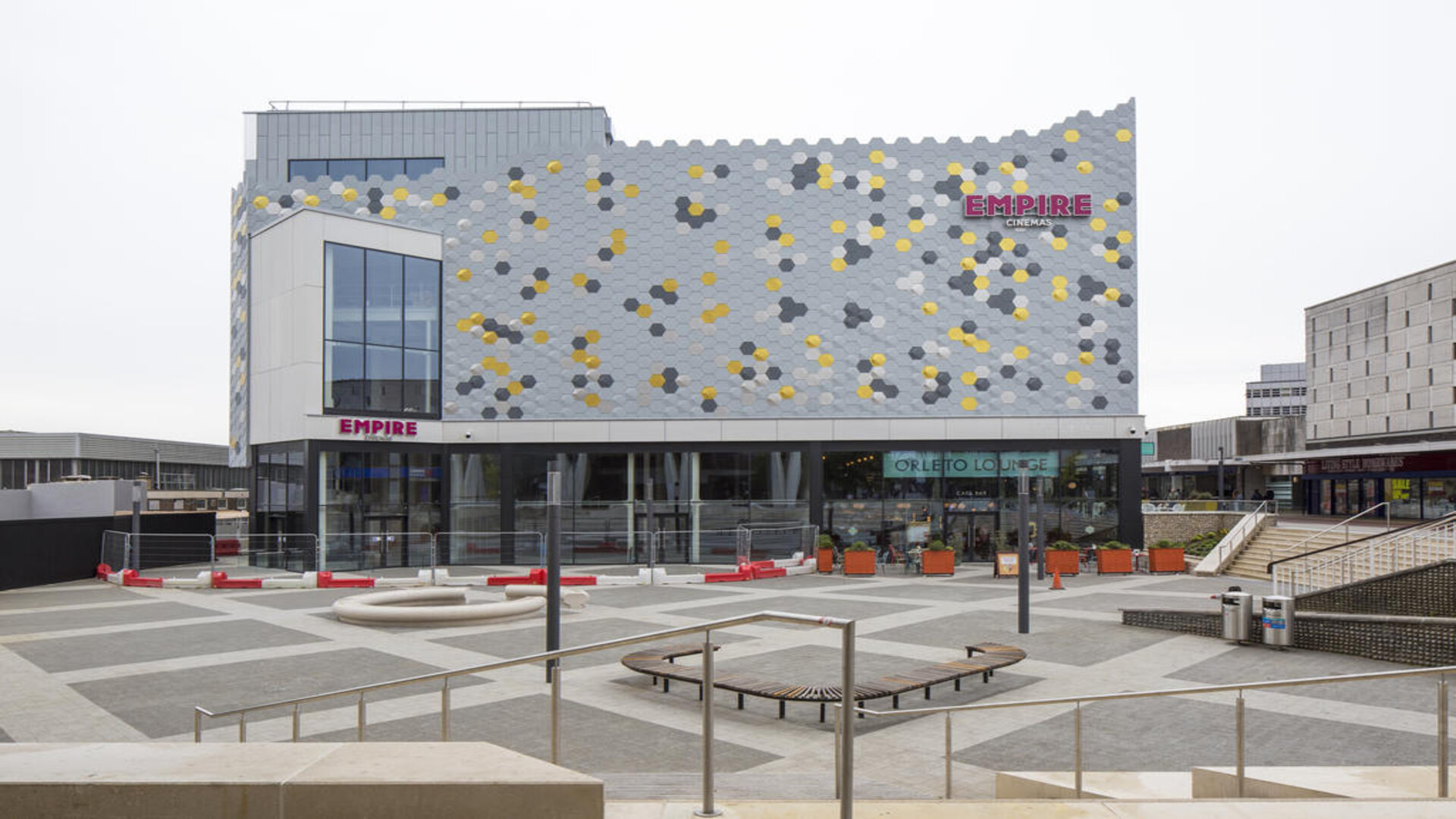 Digital allusions
The new multiplex cinema in Basildon town the 1960s digital imagery and ceramic murals for which the area is famous. The architectural firm Pollard Thomas & Edwards used zinc shingles and the VMZINC MOZAIK system for the elaborate facades. The building facades are covered with hexagonal shingles in different surface variations, with the focus on QUARTZ-ZINC shingles. Additional shingles made of AZENGAR and ANTHRA-ZINC enliven the area and some gold-painted representatives of their kind are particularly noticeable. Some gold-painted shingles and three-dimensional shingles custom-made for the cinema add to the eye-catching design.
Ascending pixels
The hexagonal shingle facades rise to a highest point on two sides of the building. The Empire Cinema logo is displayed on both sides around the central axis, and the shingles continue to the flat roof, creating an impression of an image slowly building up from its pixels.
Cinema with skyline
The multiplex cinema has a facade area of around 4000 m², with vertically aligned MOZAIK cassettes covering some areas instead of shingles. The color design creates a special effect, with the varying colors of the cassettes giving the impression of a staggered skyline. The colors range from dark ANTHRA-ZINC for nearby buildings to lighter QUARTZ-ZINC for imaginary skyscrapers and finally, to bright and matt AZENGAR for the sky.
East Square Basildon Cinema Essex (UK)
Special edging technique
Long rectangular elements were used for the MOZAIK facades in Basildon. The intelligent edging technology of the MOZAIK system results in a particularly elegant appearance. The folding technique allows the folds to form continuous joints and hides the connection between the elements. The cassettes are available in different depths, so that a 3D effect can also be achieved with MOZAIK facades. However, the architectural firm Pollard Thomas & Edwards decided against such a solution for the multiplex cinema and only showcased the "pixelated" facades in three dimensions. The MOZAIK surface draws its strength from flat, structured lines and color design.
Now we have to keep our fingers crossed that with the imminent opening of cinemas and restaurants, the attractiveness of the town center will increase again and the town council's plans will be crowned with success.
Guido Wollenberg
Photo credit: Paul Kozlowski