Standing seam roofing – underlying principals
Advantages of the Standing seam roof system
Lightweight and durable
Slopes from 3- 90 degrees
Panels upto 13m in length
Flexible
No flame spread of penetration following Brooft4 tests
Introduction
The standing seam system consists of a comprehensive range of robust components that ensures appropriate and correct installation is achieved. It is also important that standing seam roofs are installed by properly trained and equipped professionals.
The standing seam system is available in various standard coil dimensions shown in the table below. Non-standard widths between 60mm and 600mm can also be produced. The standing seam panels weigh approx 6kg per m2 .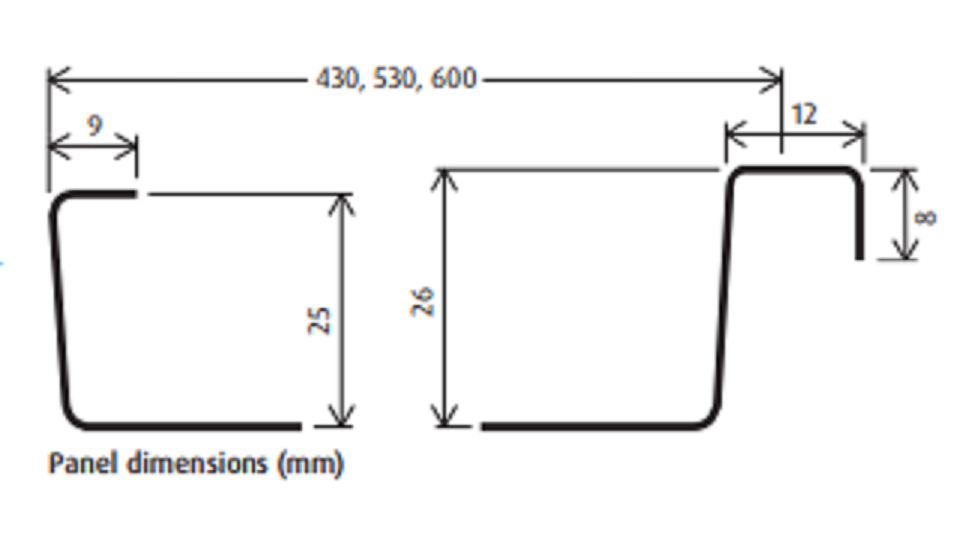 Individual panels are held in place at the top of the pitch by a minimum of 5 fixed clips and then towards the lower portion of the panel by sliding clips allowing thermal movement. These stainless steel clips, which are fixed to the structure, are crimped inside the joints. Thus the fixing clips for panels and flashings never penetrate the material and therefore do not affect the appearance or damage the waterproofing. The low height of the seams (25mm standard) and the 600mm maximum spacing between joints give the roof a light, harmonious appearance.
Certificates
VMZINC has 2 BBA Certificates for non-ventilated warm roof systems – the Structural Roof and the Compact Roof.
BBA certified systems give a wide range of benefits. For over 40 years agrément certificates have been supplied by the BBA in order to give unbiased information on the performance of a system. By selecting a BBA system an architect is sure to avoid problems at a number of stages in the building process and queries about the performance of key products. By using BBA certified systems contractors also know that they will perform, if installed in accordance with the guidance in the Certificate.
VMZINC accessories
VMZINC supply a number of accessories ranging from a breather membrane to fixing clips and flashings such as the G3 ridge, eave and verge.
Standing seam coil dimensions (all the surface finishes are available as standard and PLUS products)
Surface finishes
Coil thickness (mm)
Coil width (mm)
Standing seam centres (mm)
Natural zinc
0.70 or 0.80
500, 600 or 670
430, 530 or 600
QUARTZ-ZINC
ANTHRA-ZINC
PIGMENTO
AZENGAR

500 or 600

430 or 530
Standing seam zinc roofing will not give a perfectly flat finish. However, by reducing panel width and increasing zinc thickness, unevenness will be reduced. Narrower panels are also recommended in exposed areas with high wind loads.