Architect-designed house among a sea of rocks
There is much inspiration to be drawn from this impressive residence in the Middle East.
The house is located on a mountaintop for approx. 1,700 meters high in Lebanon on the edge of the ski resort village, Faqra – in the middle of countless barren limestone cliffs.
The unusual construction stands out with its visionary design ideas and strong inspiration taken from the surrounding nature and surroundings.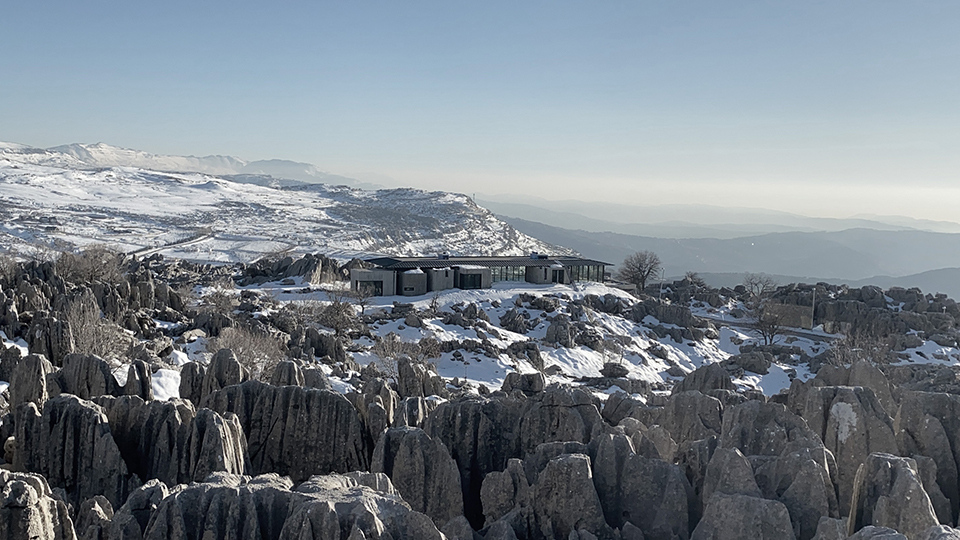 Located far away from city life
A sanctuary in the middle of nature
Architect Karim Nadir conceived and built this remarkable house for a private developer who wanted a respite from the hectic city life of Beirut.
The home is externally built in concrete and glass, while the roof is made of pre-patinated zinc in a deep slate gray shade from VMZINC.
The carefully thought-out choice of materials makes the house blend in so well with the majestic rocky landscape that it becomes almost invisible from a distance.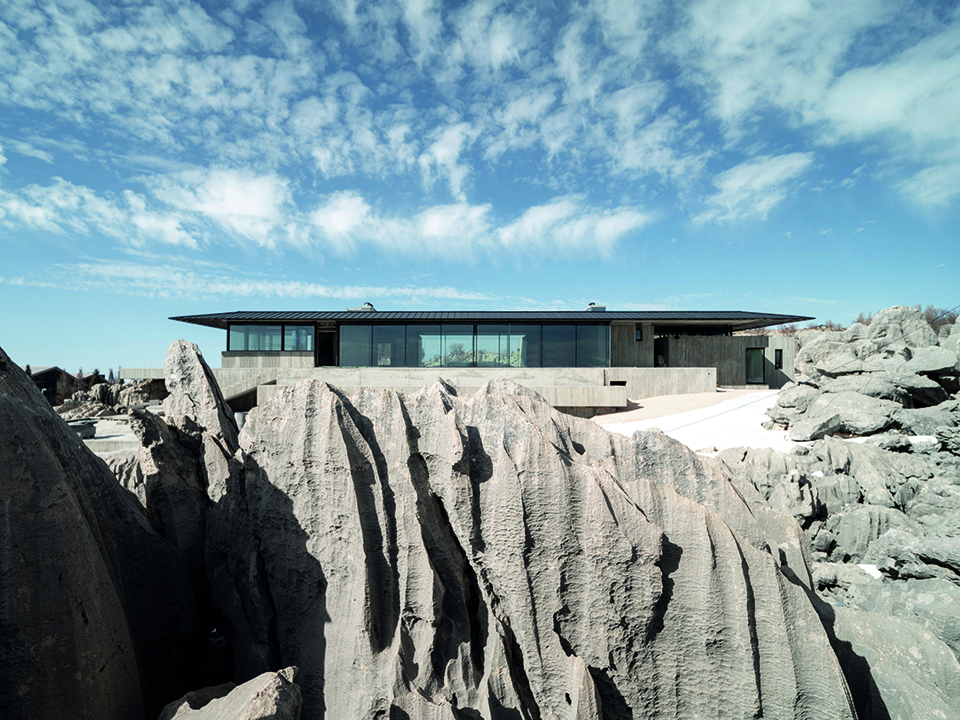 The house is beautifully integrated into the distinctive rock formations.
Natural building materials inspired by the surroundings
Karim Nadir carefully studied the location and the characteristics of nature - and thereby found inspiration in the many shades of grey.
The choice fell on the natural materials concrete, glass and zinc for the construction, as they fit perfectly into the landscape. It was also obvious to choose concrete and glass, as these building materials played a large role in post-war construction in Beirut.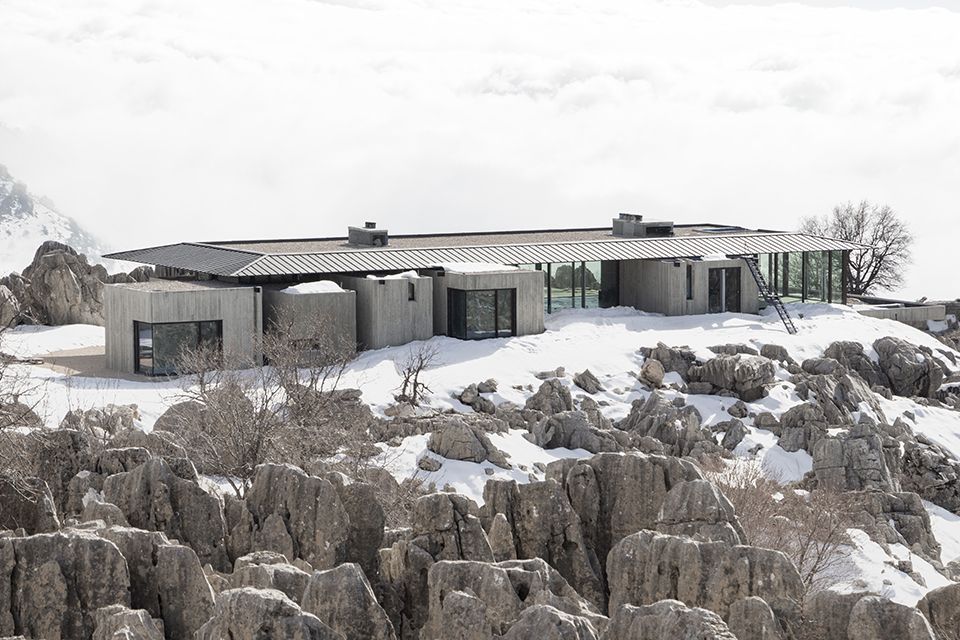 The concrete elements function as individual rooms.
Closed spaces in an open landscape
The building gives the illusion of growing out of the open, surrounding rocky landscape. The building's living space consists of a number of individual, square concrete elements. The special structure is inspired by Faqra's many individual houses, some of which are assembled in smaller groups.
The private rooms are designed as 'warm worlds' covered with wood on the inside. This creates a contrast to the many open glass areas in the house.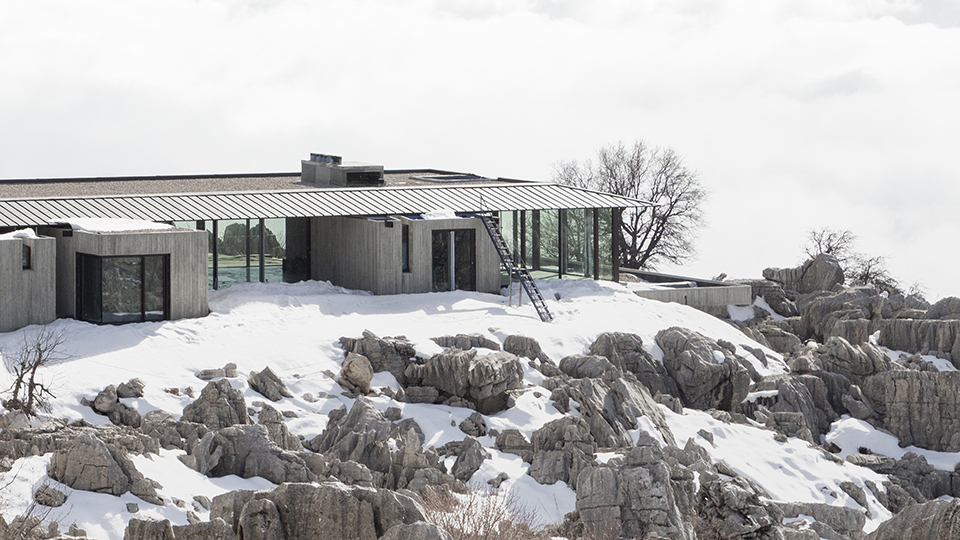 The house's many glass sections create a nice contrast to the solid concrete elements.
Contrasts and unique details
The compact, closed concrete constructions are balanced by the large transparent glass sections, which bind and define the building - and at the same time enhance the experience of living in the middle of the rocky landscape.
The 250 m² dark gray zinc roof made with ANTHRA-ZINC surface acts as the unifying element and blends beautifully with the other natural and minimalist building materials.
While the glass walls extend all the way up to the roof, the individual concrete structures have an offset and smaller height, which makes the roof appear to be floating.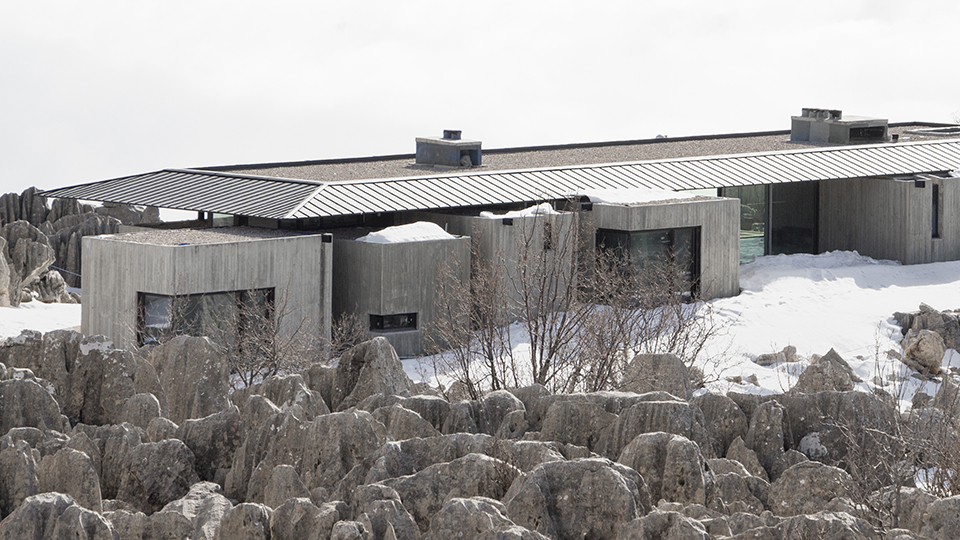 The flat zinc roof rises elegantly above the building.