Projects /
01 January 2020
The Bull Pub, Bracknell, Berkshire (UK)
As part of the "Lexicon" mixed-use urban renovation programme aiming to revitalise the town centre of Bracknell, in Berkshire, Piper Whitlock Architecture Ltd (Winchester) was entrusted with the renovation and extension of the Bull Pub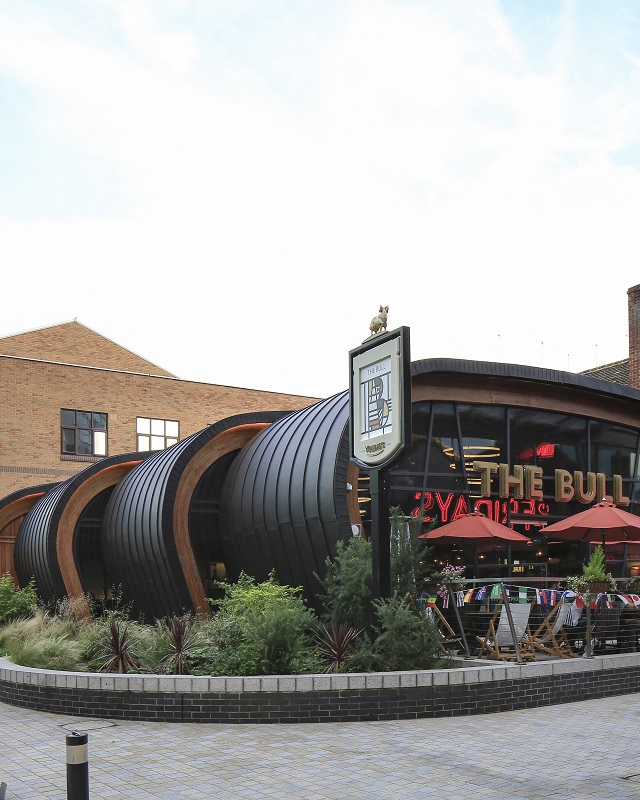 For its recent extension, the architects opted for contemporary building techniques and materials offering an aesthetic combination with the older parts of the building. ANTHRA-ZINC® PLUS was installed using the standing seam technique on the roof, whose vibrant curve descends all the way to the ground.

This roof repeats the line of the 14th century structure's vaulted beams, which is also echoed by the timber frame covering the zinc envelope.

The client wanted this pub, located on a strategic corner, to be one of the key elements of the Lexicon's new urban and commercial circuit. Mission accomplished, thanks to this bold extension that succeeds in linking the town's historic past and its current renewal in a single wave.