Projects /
01 January 2020
Private house, Hamois (Belgium)
The house built in the Walloon countryside by the LR architecture firm for one of its associates complies with regional urban planning specifications, which encourage "promoting contemporary buildings and considering present-day designs as the heritage of the future."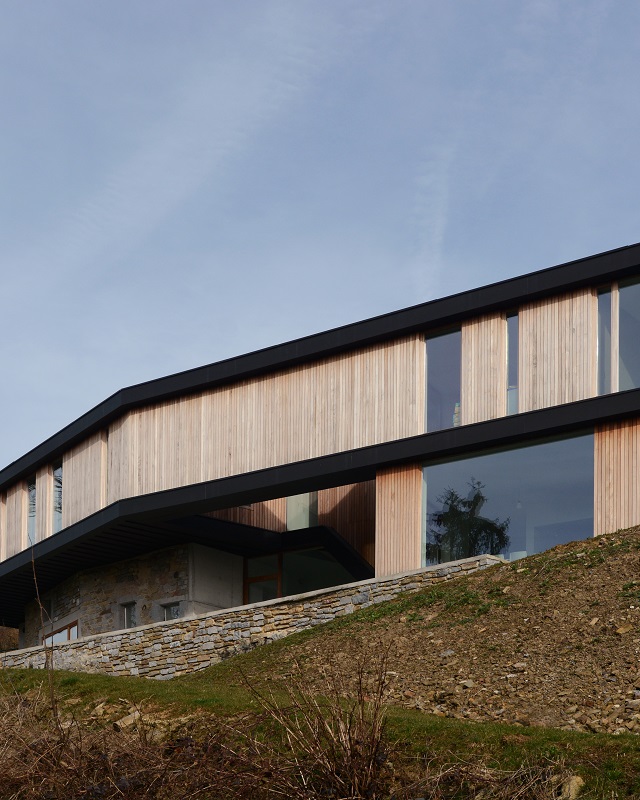 Despite these positive statements, the architects had to justify their choices in order to obtain the building permit. Their explanations confirmed their carefully considered intentions, both in terms of integration and constructive choices. The contemporary part is built on the core of a small existing house, itself built on a retaining wall that counterbalances the steep slope of the plot.

The contemporary extension is aligned with the street in a narrow strip overlooking the road. The relationship with the street takes on a dimension that the existing house, concealed below road level, did not have. The volume of the extension is closed on the street side and open on the southfacing garden side, overlooking pleasant landscape views. The retaining walls serve as a support for the terrace.

The constructive techniques used are compatible with the demands of sustainable development. Cellulose wadding insulation was injected into the timber frame walls. The envelope is made up of two recyclable materials: zinc and Afzelia wood. Black preweathered ANTHRA-ZINC® creates a strong contrast with this timber cladding, ennobling the building's appearance. On the street side, standing seam cladding covers the facade. On the garden side, the architects created thick strips designing a frame for the extension which Clearly distinguishes the new additions from the existing limestone house.