Projects /
01 January 2020
Port Melbourne House, Melbourne (Australia)
An inconspicuous extension triples the surface of a historic house in Melbourne.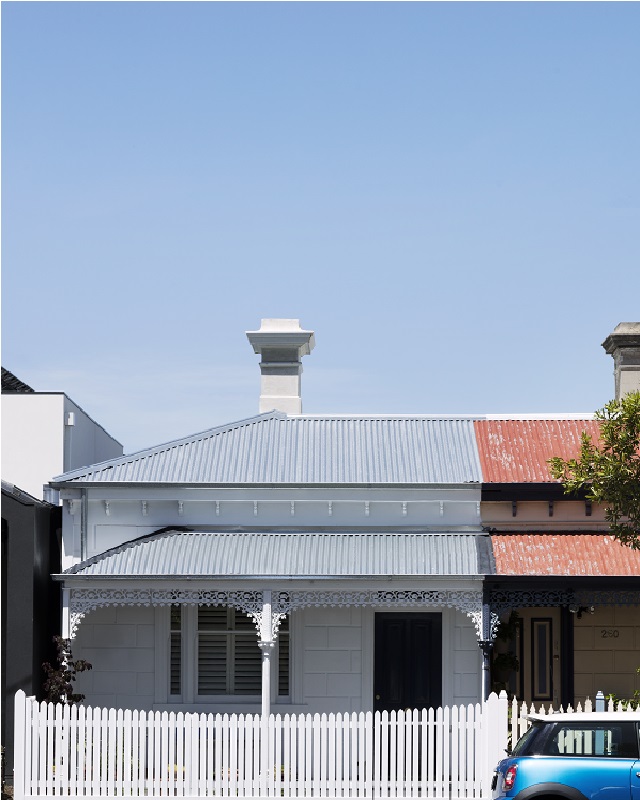 Whenever possible, architects live in spaces they design. Now the name of Dominic Pandolfini can be added to the list that includes Le Corbusier, Berhens and Prouvé, who all lived in places they designed for themselves. This Australian architect earned the recognition of his peers thanks to several collective and individual housing projects in urban contexts in the state of Victoria.

As with his previous work, the Port Melbourne project features an existing construction with strong historical value, located in a sought-after suburb. The district, a suburban area that became part of Melbourne in 1994, has numerous Victorian houses with an easily identifiable style: built in timber, they stand slightly back from the street, protected by canopies often adorned with decorative ironwork. Featuring a single, ground-floor level and a small length of facade, the house rehabilitated by Dominic Pandolfini applies a modest version of this typology.

The architect wanted a "simple, timeless, resilient" house. The authorities required that the existing building be preserved. So the original house was restored. Making the most of a long, narrow plot, Pandolfini tripled the existing surface while making the extension invisible from the street. Despite the constraints generated by the elongated geometry of the plot, the architect created spacious rooms with an almost theatrical dimension. The new sections end with a large window that attracts the visitor's eye. Playing with levels, the architect added a bedroom upstairs, a volume articulated by a full width skylight that illuminates the living room below.

The extension is clad entirely in ANTHRA-ZINC®, which gives off bluish reflections in the sunlight. Zinc met several requirements in the specifications. The architect wanted a timeless material, sufficiently flexible to clad the slopes of the roofing and facilitating work on numerous flashings. He also wanted a material that would be resilient, as the ocean is practically at the end of the street. Sometimes used inside the house, the zinc blends harmoniously with the wood, stone and metal featuring in the interior decoration, which is strikingly refined and subtle.