Projects /
01 January 2020
Bank van Breda, Hasselt (Belgium)
The Maks.architectuur firm was awarded the design of a new regional office for the J. Van Breda & C° Bank on the outskirts of the city of Hasselt, in the Belgian province of Limburg.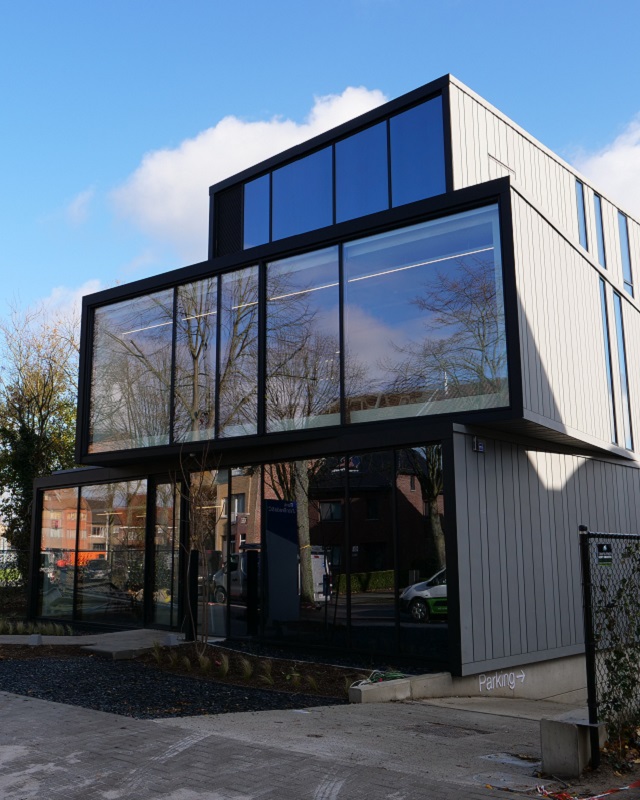 The plot, located between the city's ring road and a street running parallel to the latter, provided the client with the advantage of double exposure, and the architect with the challenge of constructing the building without a front or rear side.
This singularity influenced the design of this building by architect Wouter Plessers, manager of Maks.architectuur.

In order to translate the dynamic and modernity desired by the client, the architect proposed three superimposed boxes, whose zinc or glass facades have slightly staggered volumes. This impression of motion multiplies the views that motorists on the ring road have of the building. Although the front facades open onto to the exterior, the sides of the three volumes were roofed with flat zinc strips, creating a play of vertical lines punctuating several strips of glass.

"At first we considered using standing seam, to accentuate this graphic approach", says the designer. Ultimately, he opted for interlocking panels, whose inwardfacing joints make the facade more homogenous, less subject to the interplay of light. This same desire for homogeneity governed the choice of the pre-weathered QUARTZ-ZINC® aspect, whose constant colour - very similar to the patina of natural zinc after several years of exposure to air and water - changes only slightly over time.