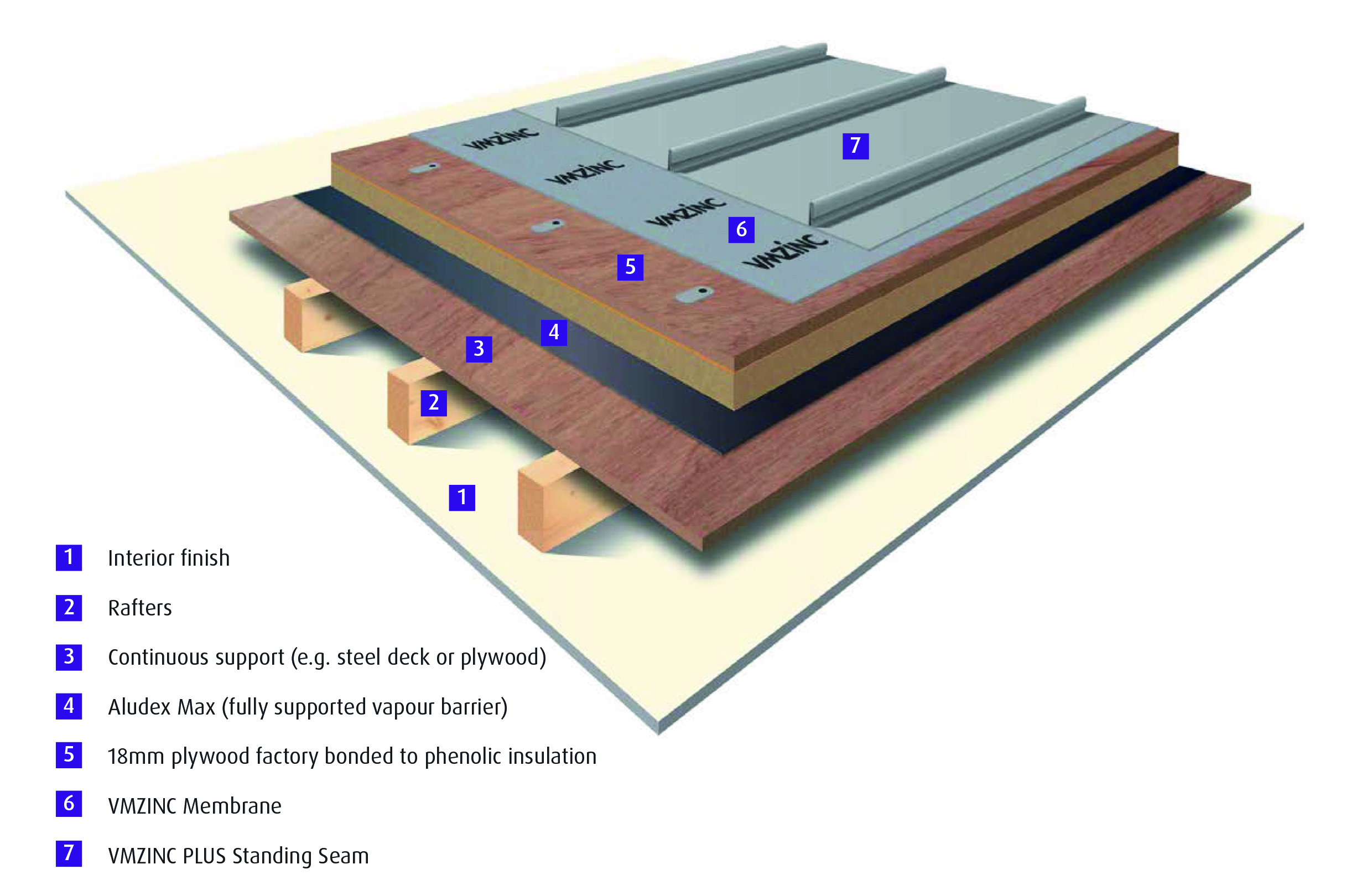 Standing seam on plywood bonded to phenolic foam
Roofing
Clips
Hidden
Standing
Standing seam
Advantages
BRE EN 15804 EPD
Products such as Metdeck and Warmdex provide a continuous support to VMZINC PLUS
Reduced thermal bridges
Timber substrate can resist limited foot traffic
Fast and easy installation using traditional clips
General advantages of Zinc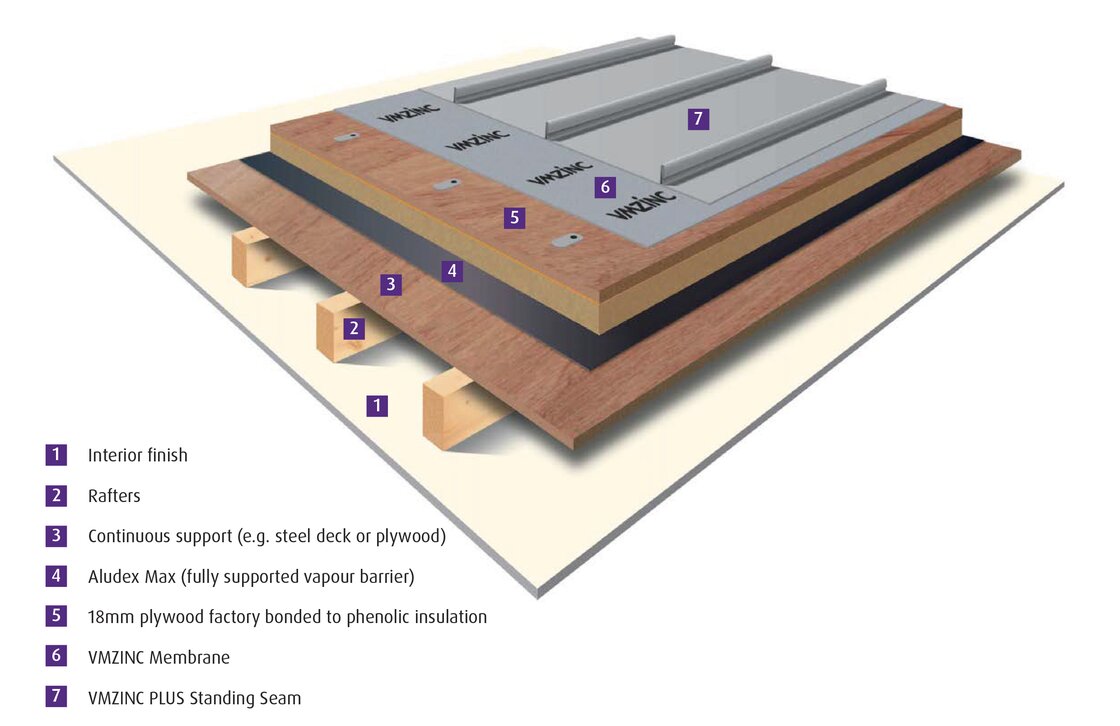 Overview
Standing seam roofing panels on plywood bonded to phenolic foam is a roof system with a non-vented warm substrate. The plywood allows for a traditional support to be used. The plywood must be bonded to the phenolic foam in controlled factory conditions.
Structure
The substrate of the Metdeck/Warmdex composite panels (on the warm side of the roof panel) must be covered with Aludex Max a continuous aluminium foil-backed bituminous self-sealing vapour barrier.
Condensation risk must be assessed for each individual project or individual project component in accordance with BS 5250: 2002. Specification may need to be adapted to the internal humidity load of the building. The VMZINC Membrane should be installed between the VMZINC PLUS and the Metdeck/Warmdex composite panels, then dressed into the gutter.
Metdeck/Warmdex composite panels, incorporating 18mm WBP plywood factory-bonded to a Resol insulation core, are mechanically fixed to the substrate (vapour barrier on concrete, metal or timber deck). The number of fixings required will vary with specific building details and geographical location, and must be assessed on an individual basis.
Areas of application
The system can be used for roofs with a pitch from 3º to 70º and for buildings with humidity classes of between 1 to 4 (dwellings with high occupancy, sport halls, etc). As with all warm (non-ventilated) roofs VMZINC PLUS must be used. This system provides a continuous 18mm WBP exterior grade plywood substrate allowing greater flexibility installing the VMZINC PLUS finish, thus eliminating the need to penetrate the insulation layer with additional fixings thereby minimising thermal bridging. With this warm roof system VMZINC PLUS Standing Seam can be installed on Metdeck/Warmdex composite panels without ventilating the underside of the VMZINC PLUS.
Dimensions
| | |
| --- | --- |
| ZINC thickness | 0,70 mm |
| Panel width | 430, 530 or 600 mm |
| Panel length | 13000 mm |
Product thickness (mm)
U-value (W/m2K)

98
0.25
108
0.23
118
0.20
138
0.17
148
0.16
158
0.15
168
0.14

Product thickness = insulation + 18mm plywood
ANTHRA-ZINC

AZENGAR

PIGMENTO Charcoal Blue

PIGMENTO Storm Grey

PIGMENTO Blue

PIGMENTO Brown

PIGMENTO Grey

PIGMENTO Green

PIGMENTO Red

QUARTZ-ZINC

Natural zinc
Documents and drawings
Please enter your E-mail address. We will send you the download link by mail.
Success Download Link
Success Download Link
Fail Download Link
Fail Download Link description
It is critical that the plywood bonded to phenolic insulation be installed dry and then must be protected against moisture before the zinc is installed.
Do you have a question or remark? Please, leave us a message.
;
;