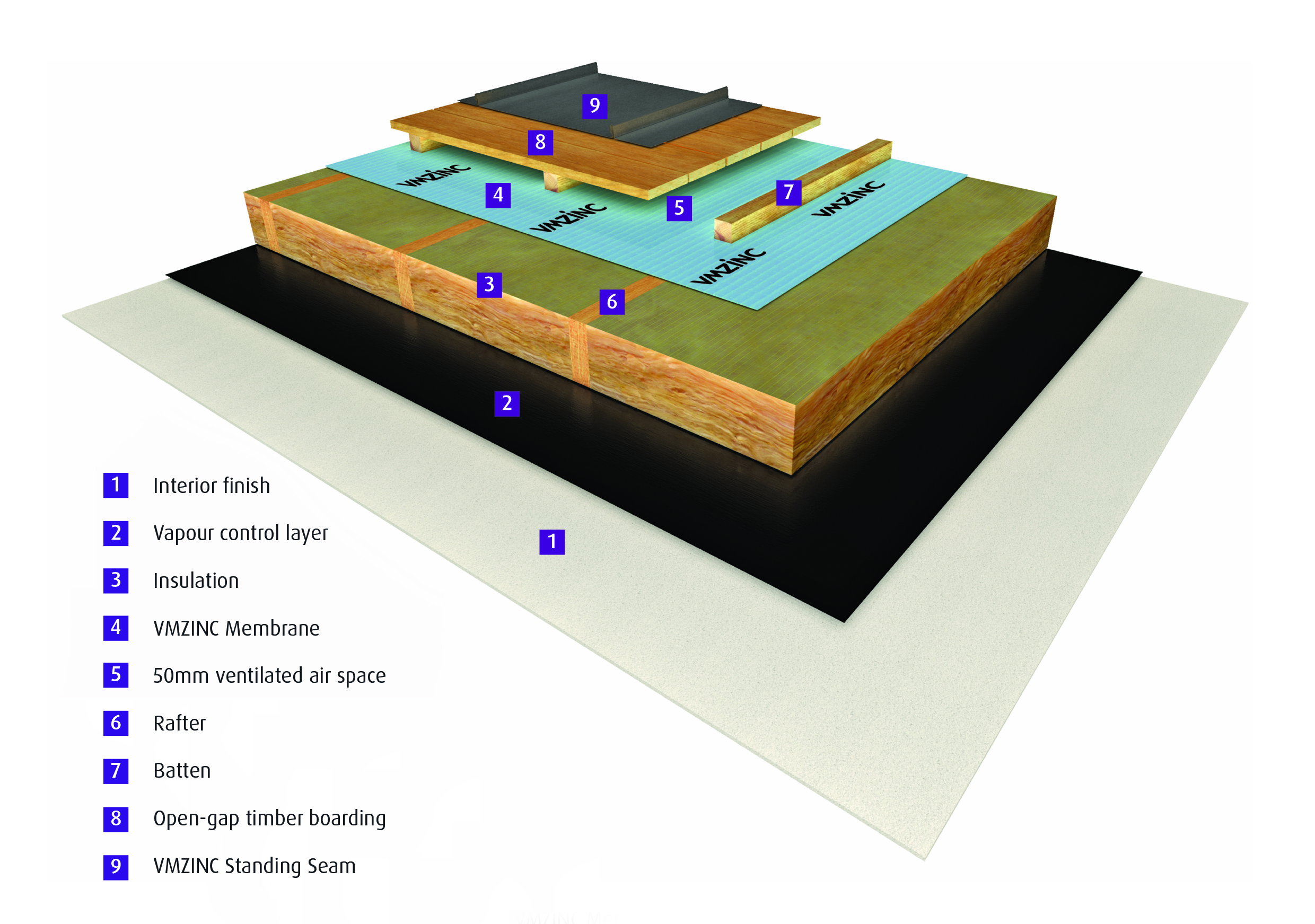 Standing seam on open-gap timber boarding
Roofing
Clips
Hidden
Standing
Standing seam
Advantages
A very versatile and easy to install substrate
BRE EN 15804 EPD
Easy installation using traditional clips
Flexible because it also permits complex shapes to be clad in zinc
General advantages of Zinc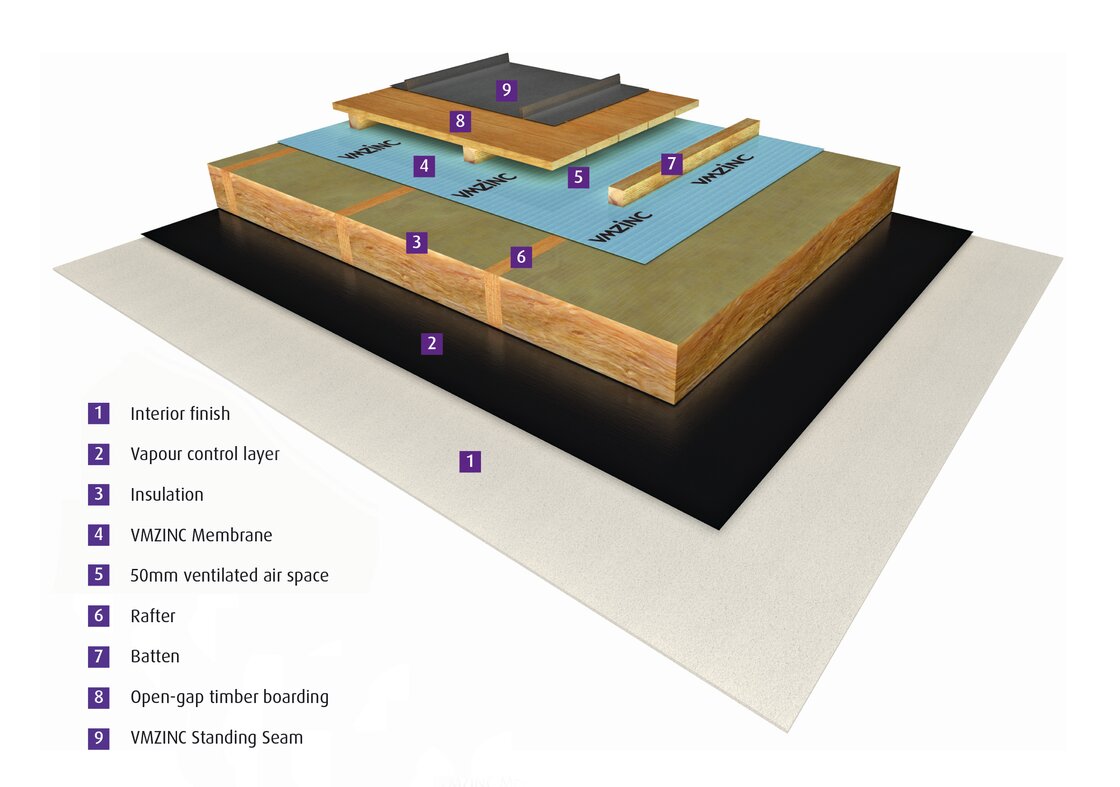 Overview
Standing seam roofing panels on vented open-gap timber boarding is a roof system with a vented cold substrate and the system that has been used for over 200 years.
Structure
VMZINC must be installed directly over the open-gap softwood boarding without the use of any membrane. The boarding should be clean and dry, 100mm to 150mm wide, 18mm or 24mm thick, according to the rafter centres. Any wood treatment products (fungicides, insecticides) must be dry and completely neutral in relation to VMZINC.
The roof boards are fixed perpendicularly to the direction of the pitch leaving a 3mm to 5mm gap between them. They are securely fixed to the structure.
Maximum difference in height between roof boards should not be more than 2mm. The deflection measured under a rigid 600mm long straight edge cannot exceed 2mm in any direction. The roof board nails are countersunk in order to avoid any contact with the VMZINC.
Metal salt solutions must not be used on the timber boarding.
Areas of application
Suitable for buildings in 1 to 4 humidity classes (dwellings with high occupancy, sport halls, etc) with pitches from 3° to the vertical (as well as soffits). VMZINC is installed on the roof boarding. A minimum 50mm continuous air gap must be left clear beneath the roof boarding. Continuous ventilation openings are made at the ridge and eaves. In order to maintain the integrity of the roof, a VMZINC breather membrane should be installed on the cold side of the insulation, and a vapour control layer appropriate to the building's humidity levels laid on the warm side of the insulation.
Dimensions
| | |
| --- | --- |
| ZINC thickness | 0,70 mm |
| Panel width | 430, 530 or 600 mm |
| Panel length | 13000 mm |
ANTHRA-ZINC

AZENGAR

PIGMENTO Charcoal Blue

PIGMENTO Storm Grey

PIGMENTO Blue

PIGMENTO Brown

PIGMENTO Grey

PIGMENTO Green

PIGMENTO Red

QUARTZ-ZINC

Natural zinc
Documents and drawings
Please enter your E-mail address. We will send you the download link by mail.
Success Download Link
Success Download Link
Fail Download Link
Fail Download Link description
Zinc roofing has been installed over vented open-gap timber boarding since 1809 and has the advantage of being extremely flexible. It is the only time standing seam roofing panels and flashings can be used without VMZINC PLUS.
Do you have a question or remark? Please, leave us a message.
;
;