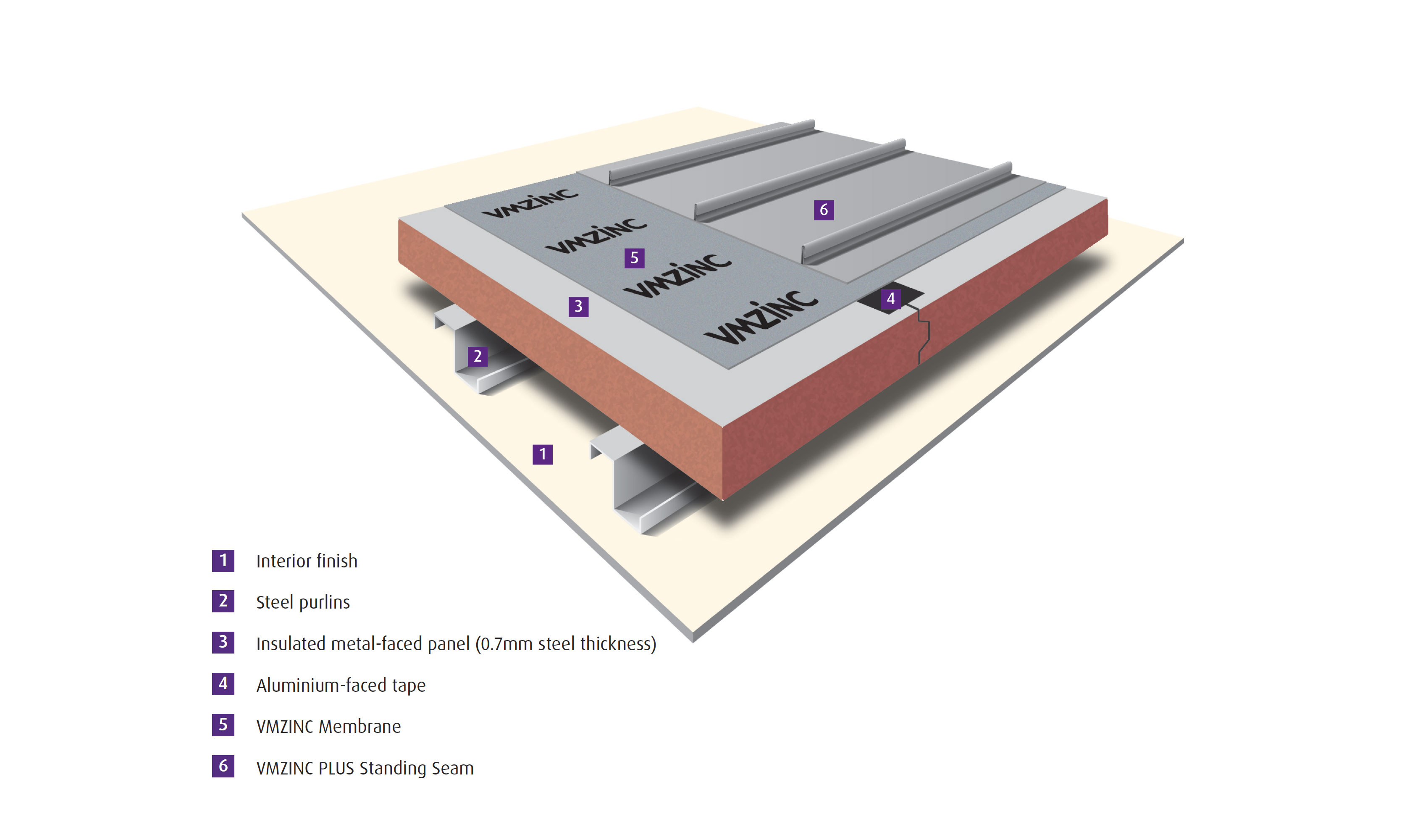 Standing seam on insulated metal-faced panels
Roofing
Clips
Hidden
Standing
Standing seam
Advantages
Allows building to be temporarily weatherproofed rapidly
BRE EN 15804 EPD
Offers a fast track installation process over large areas
Reduced thermal bridges
General advantages of Zinc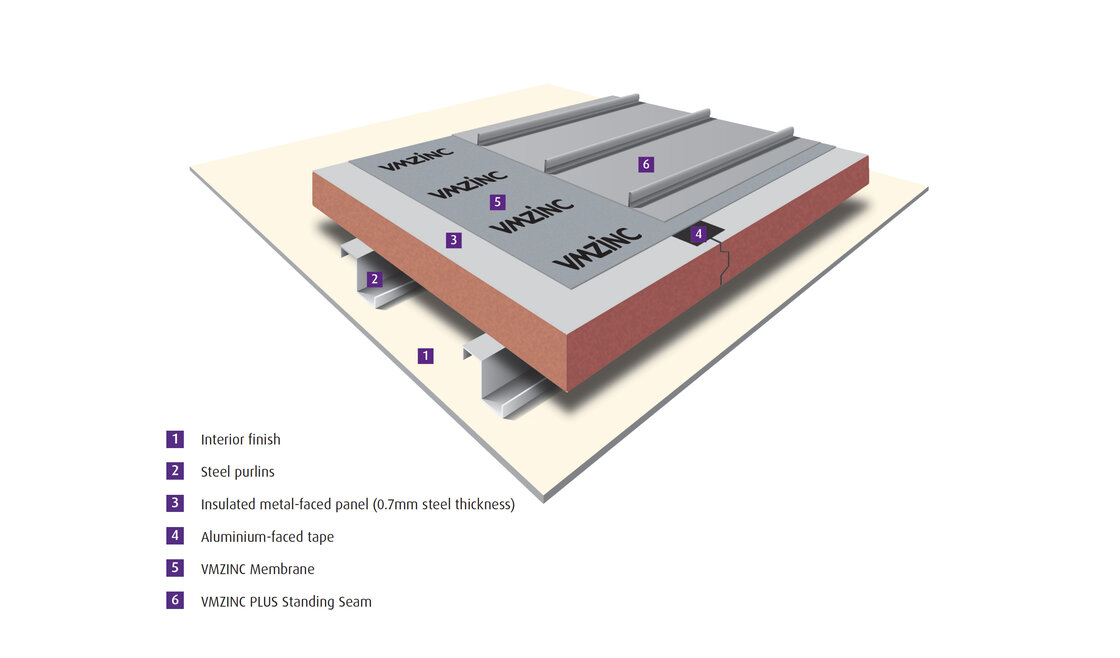 Overview
Standing seam roofing panels on insulated metal-faced panels is a roof system with a non-vented warm substrate. The nature of insulated metal-faced panels allows large simple roofs to be covered very quickly.
Structure
The insulated metal-faced composite panel must be made from galvanised steel on both the internal and external facing (minimum thickness 0.7mm for external facing). Fixings and clips must not inhibit the required expansion and contraction of the VMZINC PLUS or cause any damage to the protective coating underneath.
The insulated metal-faced composite panel must provide a 100% vapour barrier. This is normally achieved using a panel with a vapour tight interlocking jointing system. It is the specifiers responsibility to ensure there is no risk of condensation in this type of roof construction and the use and humidity of the building should be considered before specifying this solution.
The warm side of the insulated panel joint must be sealed together with the top side. All joints and penetrations should be sealed appropriately.
The surface of the support that the zinc is to be laid on, must be even to within 2mm.
Areas of application
Suitable for buildings in 1 to 4 humidity classes (dwellings with high occupancy, sports halls, etc) and with pitches from 3° to 70°. The system can be used for wall cladding if a non-vented system is acceptable. For installation on metal-faced composite panels VMZINC PLUS, with its specially protected underside, must be used. The outer skin must provide a minimum pull-out value of 50daN for the standing seam fixing clip (dynamic testing method).
Dimensions
| | |
| --- | --- |
| Width | 1 |
| Length | 10000 mm |
| Thickness | 0.7 mm |
ANTHRA-ZINC

AZENGAR

PIGMENTO Charcoal Blue

PIGMENTO Storm Grey

PIGMENTO Blue

PIGMENTO Brown

PIGMENTO Grey

PIGMENTO Green

PIGMENTO Red

QUARTZ-ZINC

Natural zinc
Documents and drawings
Please enter your E-mail address. We will send you the download link by mail.
Success Download Link
Success Download Link
Fail Download Link
Fail Download Link description
It is important that all screws and clips used on an insulated metal panel must be flush to the surface of the panel within 2mm. For instances where this is not the case it is possible to use clips with a raised section that allows free thermal expansion and contraction of the zinc panel without any risk to the underside of the zinc.
Do you have a question or remark? Please, leave us a message.
;
;