Installing and Working with Zinc
As well as following design recommendations it is critical that VMZINC is installed in the correct manner and by trained professionals.


Use a Professional
VMZINC provides training for installers with experience in metal roofing and cladding . This training is designed to supplement trained professionals with specific information concerning VMZINC. Please contact us for further information.
LSA please Tel: 01622 872432 or email: info@leadsheet.co.uk
NCTS please Tel: 01992 801914 or email: jo@ncts.org.uk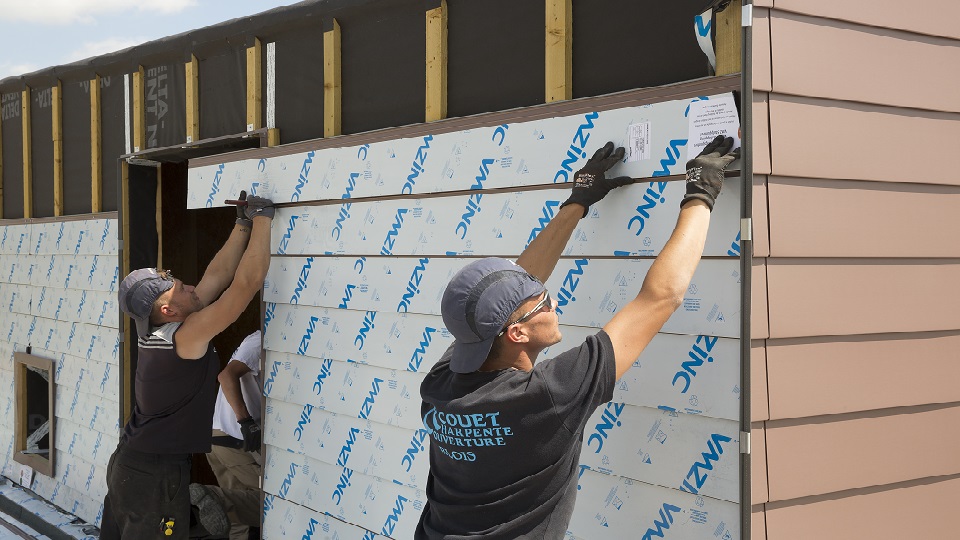 The protective film indicated the rolling direction of the zinc.
Working with Zinc
Profiling and folding zinc
As zinc is a rolled metal it has a rolling direction, which is also indicated on the protective film. It is recommended that this direction is respected on a roof or wall as light will reflect differently on panels laid in opposite directions. The zinc must also be folded in a way that creates a gentle radius rather than a sharp fold.
This is the case for all equipment whether it be hand tools, CNC equipment or profilers. Natural zinc, QUARTZ-ZINC and ANTHRA-ZINC should always have an internal folding radius of at least 2 x the thickness of the zinc sheet ,and the metal should never be folded if the temperature of the metal is less than +45ºF.
When using PIGMENTO this radius should be increased to 3 x the thickness of the zinc sheet, and the folding should only be carried out when the temperature of the metal is at least +50ºF. All folding of the zinc should be carried out with the protective film in place.
Protecting zinc
Protective gloves should not only be used as a safety measure when working with zinc but also to avoid staining the metal. The protective film should be left on the zinc during panel manufacture and installation. Zinc roofs and walls must not be covered with tarpaulins during the installation as it will cause condensation build-up resulting in possible white rust staining.
Soldering zinc
Soldering is an excellent way of joining two pieces of zinc to another in a weather-tight fashion. It should be noted that a soldered joint will not allow for any thermal expansion and contraction, therefore soldering should only be used to join small pieces of zinc to one another.
Before soldering, all surface treatment of oxidation on the metal must be either chemically or physically (gentle abrasion) removed.
For more information please consult our guide to soldering.
Protective film
The protective film should be removed from the zinc panels upon completion of the façade or roof all at the same time.
The protective film should remain on the zinc no longer than 60 days after the installation of the panels. Make sure that other trades do not contaminate zinc panels after the film is removed.
The film must not be partially removed during installation for the remaining film to be removed at a later date, as this is likely to allow water to become trapped between the zinc and the partially removed film resulting in staining.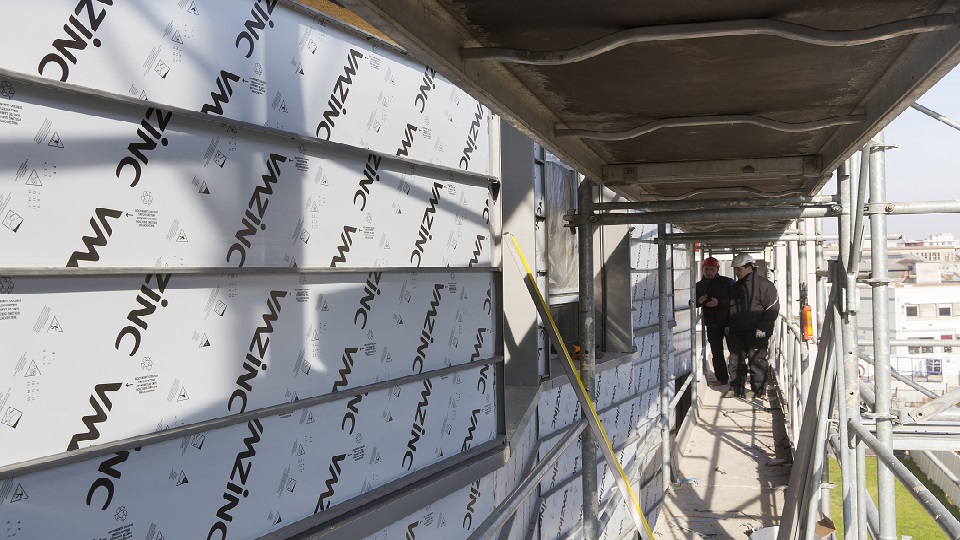 It should be noted that most stains are very difficult to remove. If fully filmed sheets are being used to form panels, which may make it difficult to remove the film after installation, the film can be scored by using a piece of zinc (greatly reduces scratching of the pre-weathering). This must be done on an area of the panel where water cannot build up, i.e. in the reveal of a cassette panel and not on the face of a panel. The scoring must also be done so as to leave a clean well-adhered edge to the film.
Once the film has been removed it must not be covered with timber, tarpaulins, etc as these will trap water and induce staining