The Metropolitan Lofts, Morristown (USA)
50 kilometres west of New York, Morristown is one of a number of towns that have been boosted by the increase in property prices in the Big Apple. Manhattan is less than an hour's drive away and there are 75-minute train links to Pennsylvania Station. Morristown does not just offer affordable rents.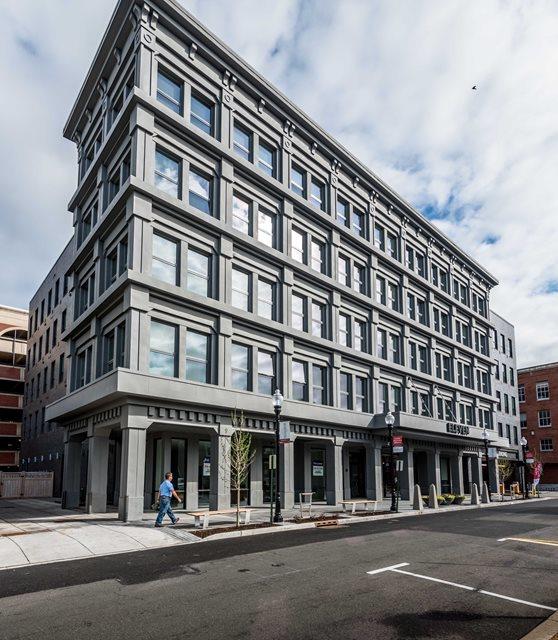 Refusing to become a commuter town for one of the largest cities in the world, locally elected representatives decided to turn their town into an attractive, lively location, significantly opting to develop the town centre for pedestrians rather than for cars – a rare occurrence in the United States. Shops and bars make the heart of Morristown a vibrant place connected to its train station.
Without saying so, Morristown is returning to the urban fabric of American towns before the car. So, it is not surprising that the municipal services are favouring the development of architecture openly referring to American heritage from 1820 to 1910.
For the construction of The Metropolitan Lofts, a complex of 59 apartments designed by MHS architects, the town wanted a building combining brick walls and large windows. The architects proposed an alternative compatible with the town's historicist requirements, designing a project reminiscent of the Cast Iron Building, industrial buildings constructed from the 1830s in the New York district of Soho and converted into atypical apartments from the 1960s – the famous lofts occupied by artists.
These highly rational, cost-effective buildings are recognisable by their ornate cast iron facades, supplied via catalogue by specialised manufacturers.
The ductility of zinc made it possible to create a similar architectural expression. The facade design proposed by the architects gives depth to the facade, introduces sophisticated contemporary mouldings that some may qualify as brutal, while at the same time revisiting classic decorative elements, such as corbels evoking the mutules of Greek temples.

This zinc wall recreates a thickness in front of the brick facades of the building, which is equipped with a roof terrace, a gym and other facilities open to all residents.

Honestly, why bother with Manhattan?
Metropolitan at 40 Park - Luxury apartments in Morristown, NJ