VMZINC and LEED
LEED (Leadership in Energy and Environmental Design) is a widely used green building rating system used throughout the world. Available for virtually all building types, LEED provides a framework for healthy, highly efficient, and cost-saving green buildings. LEED certification is a globally recognized symbol of sustainability achievement and leadership.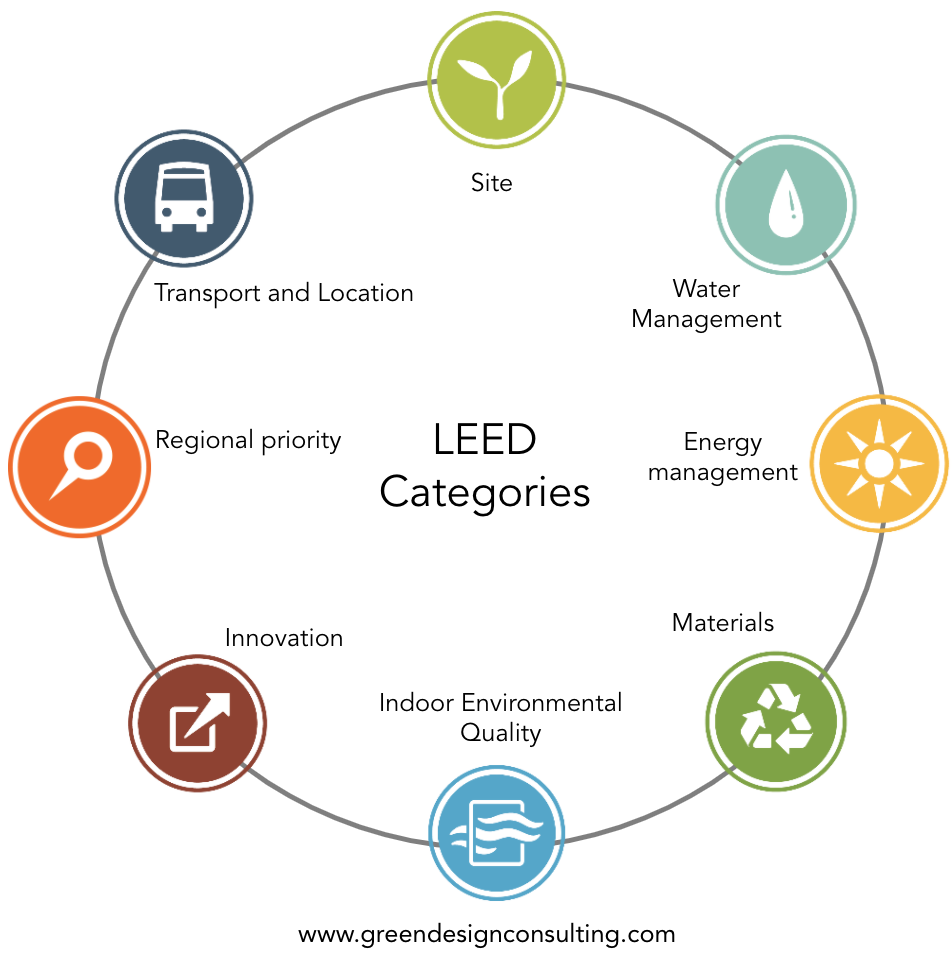 The LEED® system
The LEED® system, Leadership in Energy and Environmental Design, is the sustainable development benchmark developed by the USA. It is used in numerous countries.
This sustainable building programme aims to recognise and highlight buildings that consume the lowest quantity of energy and that are most respectful of the environment. It can lead to 4 levels of certification: Certified, Silver, Gold and Platinum.
It is organised in 8 categories of criteria:
VMZINC and the LEED® system
Sustainable, recyclable, featuring significant levels of recycled materials, Environmental Product Declarations, etc., VMZINC systems offer many advantages that enable them to contribute to obtaining LEED® certification for the building in which they are used.
Used for building envelope applications or, more rarely, as an interior solution, VMZINC solutions mainly contribute to 4 LEED® categories of criteria:
| LEED® V.4 criteria | VMZINC advantages | Accessible point |
| --- | --- | --- |
| Sustainable Site | Extent of SRI possibilities according to designers' requirements (Azengar SRI > 35) | 2 |
| Materials and Ressources | VMZINC's ambitious sustainable development commitment and policy | 1 |
| | High levels of "pre-consumer" and "post-consumer" recycled content (33% and 21% respectively) | 1 |
| | Numerous Enviromental Product Declarations compliant with ISO 14025 type III and EN 15804 | 1 |
| | Health and Safety Data Sheets | 1 |
| | Very little zinc scrap during installation (< 5%), which is 100% recyclable | 2 |
| Energy and Atmosphere | Compatibility of VMZINC systems with the most effective insulation systems (performance, thickness) | * |
| | Surface thermal bridges minimized in VMZINC systems | * |
| | PV system easy to integrate when used with VMZINC systems | 4 |
| Indoor Air Quality | AFSSET COV/Formaldehyde protocol on the main surface aspects concerned | 3 |
| | A+ COV/ Formaldehyde classification(Decree of 23 March 2011 on labelling of food products) | 3 |
San Diego Community College District - North City Campus
Architect: Joseph Wong Design Associates - Matthew GEAMAN
Surface aspect: ANTHRA-ZINC
Technique: VMZINC Standing seam
Surface in zinc: 1,165 m2 on the facade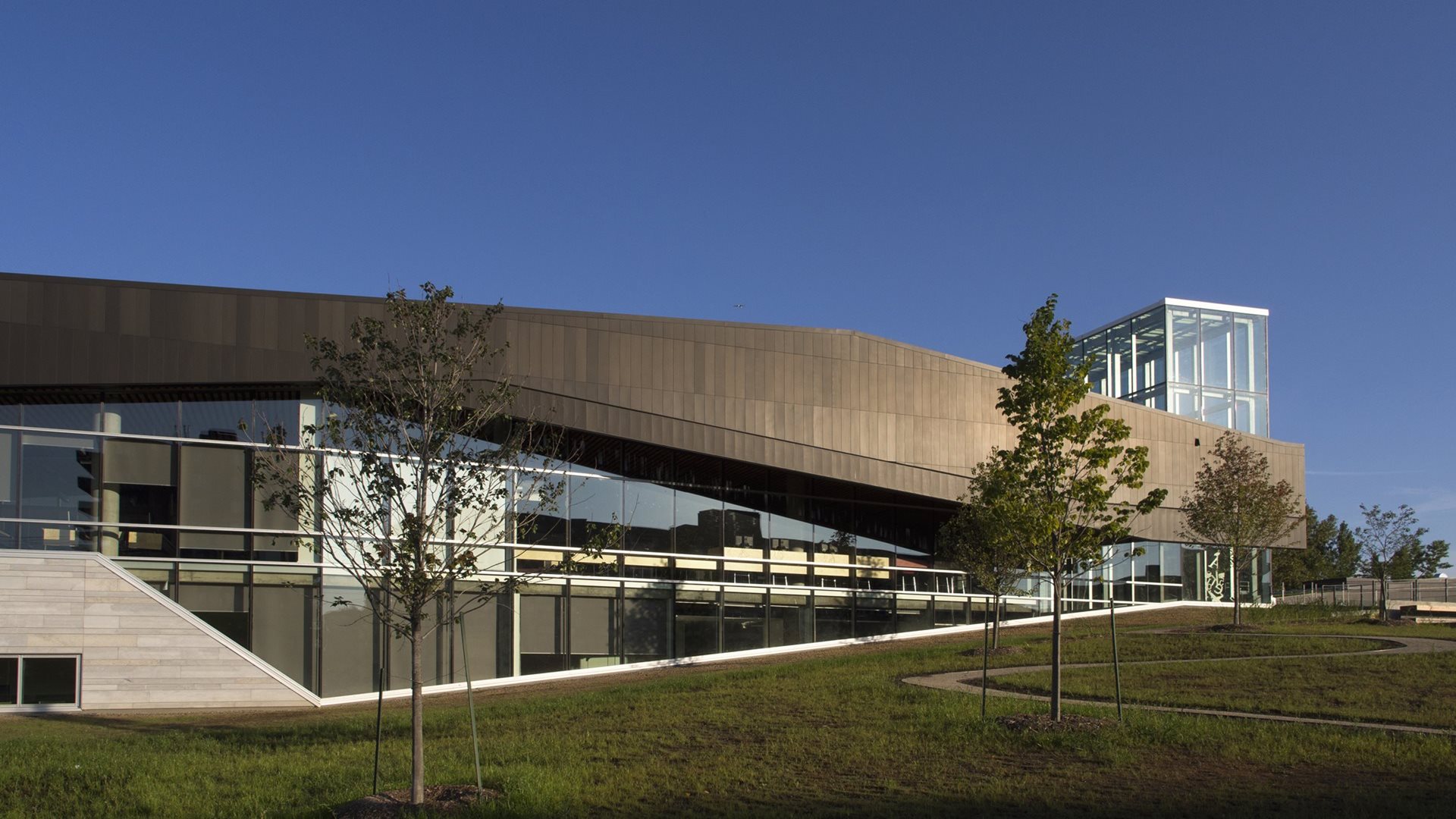 Du Boisé Library
Architect: Cardinal Hardy Labonté Marcil Eric Pelletier - Eric PELLETIER
Surface aspect: ANTHRA-ZINC
Technique: VMZINC Standing seam and VMZINC Interlocking panel
Surface in zinc: 886 m2 on the facade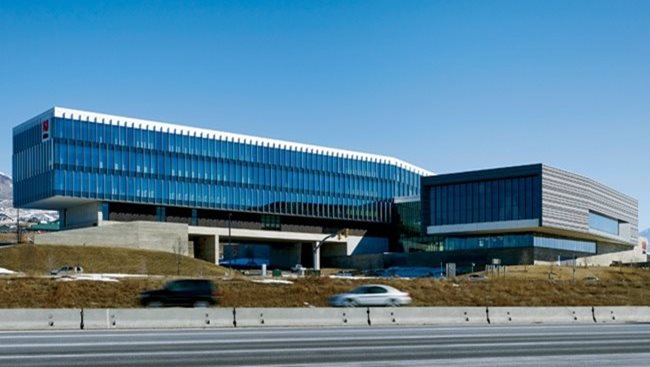 Adjustable Forms Inc
Architect: DLR Group - Nathan CASTEEL
Surface aspect: ANTHRA-ZINC
Technique: VMZINC Sine wave profile and VMZINC Cassettes
Surface in zinc: 567 m2 on the facade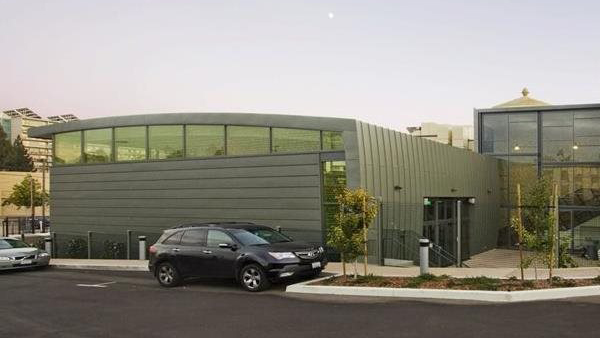 Temple Sinai in Oakland
Architect: Mark Horton Architecture - Mark Horton
Surface aspect: PIGMENTO Green
Technique: VMZINC Standing seam
Surface in zinc: 823 m2 on the facade and on the roof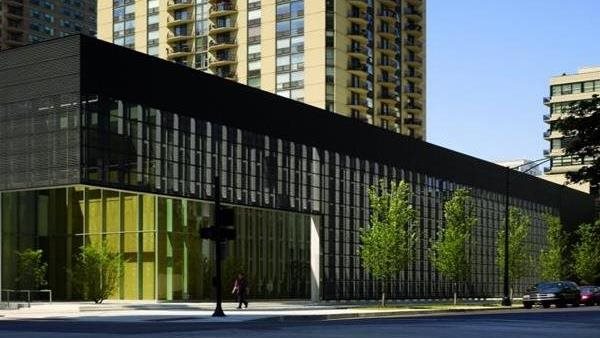 Poetry Foundation
Architect: John Ronan
Surface aspect: ANTHRA-ZINC
Technique: VMZINC Sine wave profile
Surface in zinc: 1896 m2 on the facade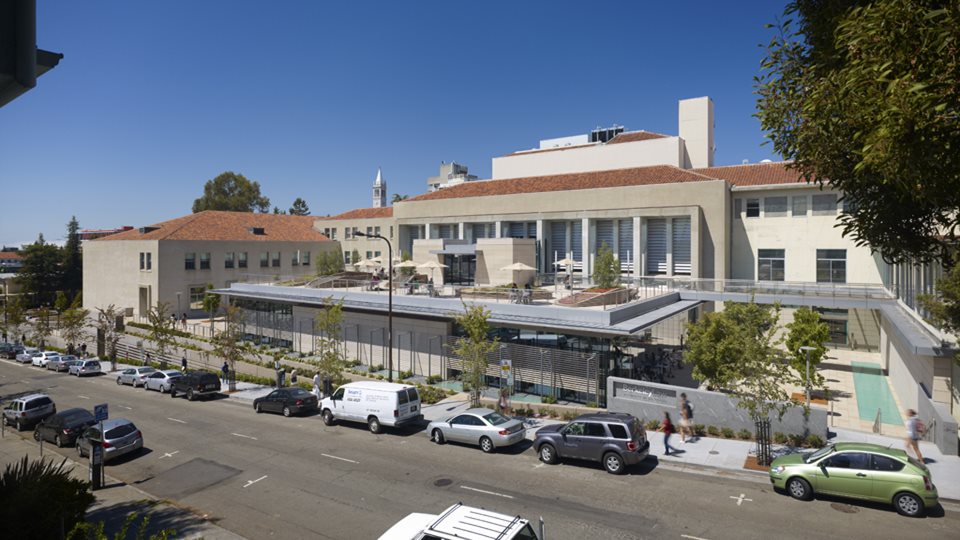 UC Berkeley School of law
Architect: Ratcliff Studio - Joseph Nicola
Surface aspect: QUARTZ-ZINC
Technique: VMZINC Standing seam and Composite
Surface in zinc: 100 m2 on the roof and the facade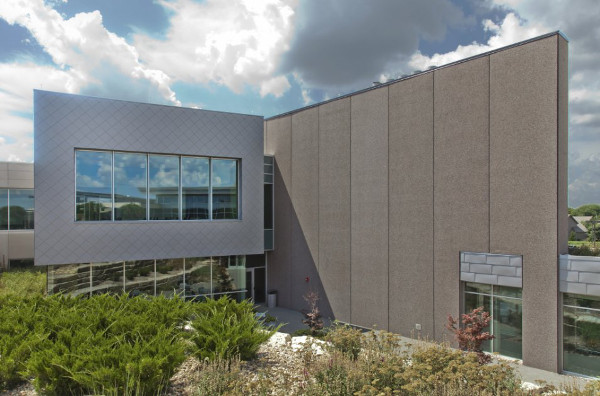 Johnson County Criminalistics Laboratory Mission
Architect: PGAV Architects
Surface aspect: QUARTZ-ZINC
Technique: VMZINC Flat lock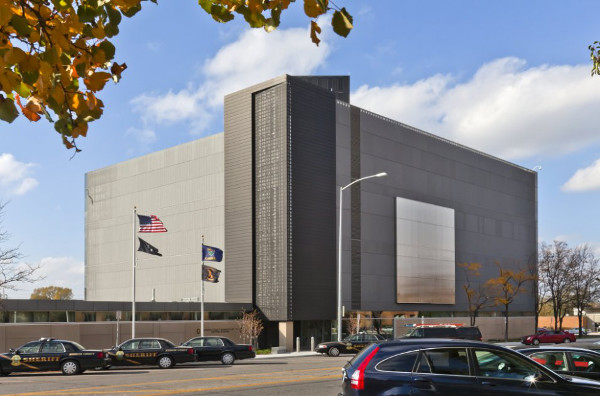 Olathe Adult Detention Center
Architect: Treanor Architects - BNIM
Surface aspect: QUARTZ-ZINC, ANTHRA-ZINC
Technique: VMZINC Interlocking panel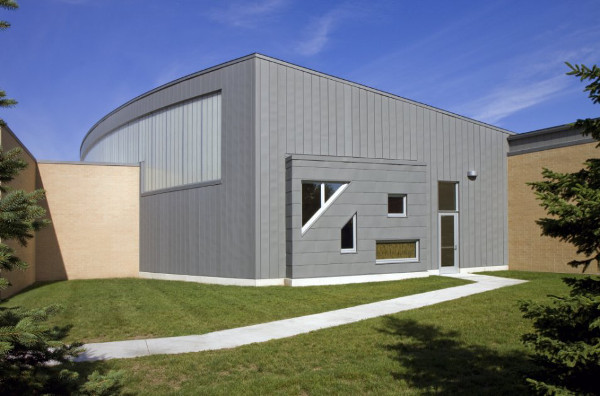 Elk River Library
Surface aspect: QUARTZ-ZINC, ANTHRA-ZINC
Technique: VMZINC Interlocking panel, VMZINC Flat lock panel, VMZINC Structural roof