New website on line
You can benefit from a new navigation, more modern interface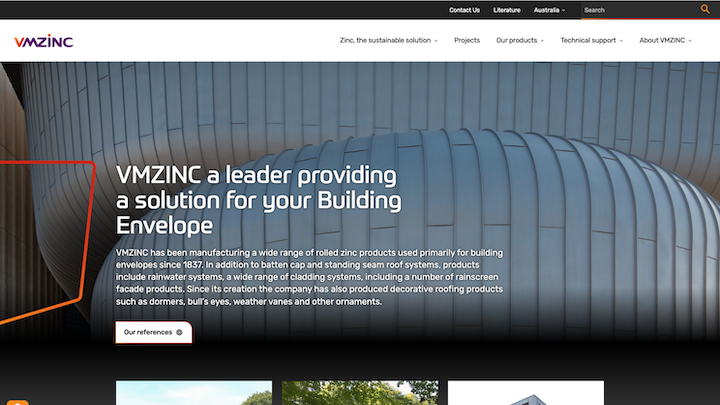 VMZINC presents its new Australian website. The site is based on a new graphic identity and contains a lot of inspiring content.
For its new Australian website, VMZINC has opted for a customer-oriented approach, tailored to the needs of architects and roofers. With a more intuitive navigation and with inspiring and valuable content, VMZINC shows itself to be a reliable and inspiring partner.
In addition to the specialized content, the website inspires by the aesthetic quality of the photography. Visitors will find everything they have always wanted to know about zinc, the VMZINC brand, its products and solutions, services, reference projects and sustainability vision.

Optimization (SEO) and the website is now mobile friendly, and adaptable to all screens and all terminals (smartphones, tablets, etc.) which will guide visitors coming from the search engines.

New graphic design
vmzinc.com.au is based on a new graphic brand identity. As a historically leading brand in its sector, VMZINC reworked its brand image to highlight its leadership. Starting from the well-known logo, a recognizable graphic element was added, which refers to the manoeuvrability of the material and distinctive roof architecture.
"By unfolding the 'V' into a graphically recognizable element, a minimalist and light-footed identity is created," says Bram Callens, Communication and Digital Manager. "To the familiar brand colours orange and purple, we have added black as high-end positioning. The new brand identity ensures instant recognition in any communication around the world."
VMZINC gradually rolls out new websites in its regional markets with the ambition to offer a dynamic platform that inspires architects and helps installers to make their work easier.
About VM Building Solutions
VMZINC is the international brand name of rolled zinc products manufactured and sold by the VM Building Solutions, which is specialized in materials for roofing and facade. The company is present in more than 30 countries all over the world for zinc activities.