Projects /
01 January 2020
"Vista Magna" residential complex, Valladolid (Spain)
Located in the Parquesol neighbourhood in Valladolid, the "Vista Magna" residential complex offers a unique panoramic view over the city centre and the Pisuerga River.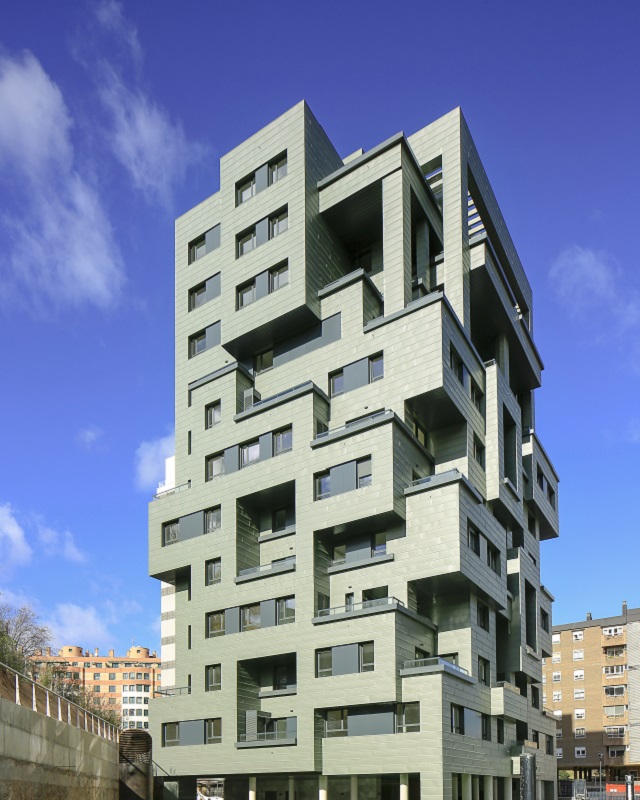 Designed by the Jesus Marino Pascual y asociados firm (Logroño), these two tower blocks - 9 and 11 floors high respectively - are characterised by the formal composition of their facades. The design of these buildings was underpinned by the intention to equip every apartment with an outside space while preserving the panoramic views afforded by the plot.

4,000 m2 of ventilated facades were clad with PIGMENTO® green flat lock panel on the highest block. Chosen by the architect for its noble expression, this surface aspect and the installation – profiled panels fixed onto a galvanised sheet steel substructure – are perfectly in line with the sustainable building approach taken by the architect and the client.

The building meets the energy performance requirements of the Spanish HE standard, while giving pride of place to comfort and exterior design.